Picnic party games
A picnic party is a special format of leisure activities. The main task of the organizers here is not only to create comfortable conditions for guests and serve delicious food, but also to provide interesting entertainment. The entertainment should be active and engaging. QB54 is the best option here.
Some people enjoy intellectual picnic party game, while others want to stretch their legs and be active. As practice shows, the best option in all these cases is lawn party games. The guests will enjoy it.
This game doesn't require any special knowledge, skills or abilities. That's why it's so popular. Even unexperienced players can enjoy this picnic game.
A lot of professional football and basketball players like QB54. It is not just an entertainment, but also it is a great opportunity to have additional training.
QB54 is the best activity at the picnic party game!
This game is fully consistent with the interests and preferences of Americans. Actually, it was invented in this country. Two brothers, Frank and Michael Silva, are the creators of this game. The boys have always loved sports. One day they were home alone and got bored. They decided to play football. Instead of goal posts the boys used trash cans. So, the boys started to throw the ball into the cans. They liked their game very much. When Frank and Michael grew up, they presented QB54 to the whole world. In 2016, the brothers launched their online store to sell QB54 game set. There are also a lot of different football accessories on the website.
QB54 is a quite simple game. Even an inexperienced participant can understand its rules. In fact, this is a successful combination of basketball and football. Sometimes this game is called football chair game.
This game is suitable for many occasions:
QB54 picnic party game is great option for tailgate party. There are many engaging and entertaining games for such events. They are always in demand of those, who like active and interesting pastime.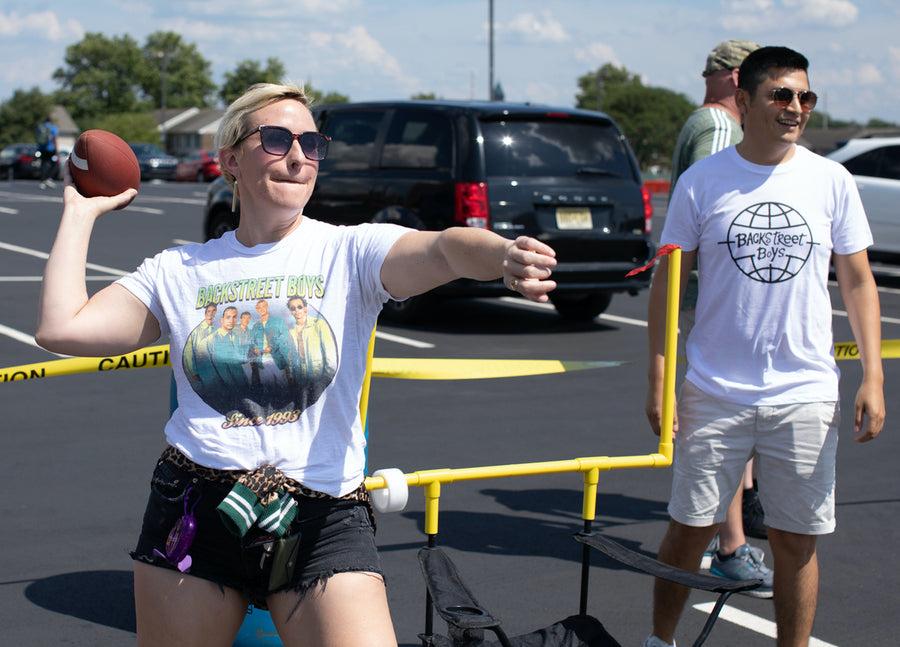 Features of QB54
This game set consists of 3 elements. There are two camping chairs with the nets instead of the seats. The third element is a 9-inch oval-shaped rugby ball. All set components are made of high-quality wear-resistant materials. This is a guarantee of long service life.
To produce QB54 set, durable metal is used for the chair frame, which can support the weight of an adult. Reliable coating with a special composition prevents corrosion and mechanical damage. Polyester is the synthetic fabric used for the seat covers. It easily withstands moisture and ultraviolet light. It is extremely tear-resistant. The ball is made of soft composite leather. It fits comfortably in the hand. There is a latex air chamber inside the ball. If the ball deflates, you can inflate it with a pump.
The chairs have special pads on the legs that do not allow slipping on a wet surface. This is very important as this picnic party game can be used on different surfaces.
Basic rules of QB54 picnic party game
This is a team game. You'll need two teams to compete. However, you can also play one on one. That's how it was originally designed.
To start the game, find a flat area. Then, you need to place the chairs opposite each other, with a distance of forty feet or less between them. It can be changed due to the age and skill level of the players. The players take turns throwing a ball in the basket. The first team to reach 54 points wins. However, this is the best picnic party game, because the losing team gets a chance for a final throw that can change the outcome of the match.
The team or player can get point for each successful ball throw. Different throws earn different number of points. For example, three points are awarded for hitting the chair on a fly. The team gets two points for the ball bouncing on the ground from the throw and landing in the basket. The player or team earns 6 points for touchdown. Defending team can earn 3 points if they catch a rebound ball from the chair before it hits the ground. The team/player can earn extra points for kicking the ball into the basket or kicking through goal posts. Teams switch sides, when the leading team reaches 12, 24, 36, or 48 points.
This fun picnic party game has other rules. The detailed information about the game is stated in instructions to the game set. You can also watch videos and learn information about QB54 on our website.
OUR BIGGEST SALE
OF THE SEASON!
Based on 214 Customer Reviews
OUR BIGGEST SALE
OF THE SEASON
🏈 QB54 is Taking the World By Storm! The Hottest Game on the Market!

🏈 Each Game Set is action-packed!Highly Addictive!

🏈 QB54 has all the elements of football without the CONCUSSIONS!

🏈 When finished form into 2 usable chairs that support up to 275 lbs each!
Why QB54 is the best picnic party game?
You can fully appreciate all the advantages of this entertainment only by purchasing the game set. Those who have had QB54 for a long time note a lot of interesting features:
Simple and easy rules: it is easy to learn them even for kids;
Compactness: the chairs are easily unfolded and folded. It won't take up much space in the car trunk. If necessary, the game can be carried in a bag, backpack, or even in hands;
Universality: this is an excellent option for a picnic party, entertainment on a lawn near the house. Such games can be used as tailgate party games, or entertainment on the beach;
Suitability: QB54 is suitable for everyone, regardless the age and the level of skills. Kids and adults will enjoy this awesome game;
Durability: Qb54 set is made of high-quality materials, that guarantee long-term service;
Safety: the game elements do not contain sharp corners. So, it can be played even by kids;
Portability: you can take the game with you everywhere: on a hiking trip, camping, picnic, stadium, school, or yard.
The chairs included in the QB54 set can be used for their intended purpose. When you remove the net, you can relax and recharge for the next battle. Thanks to their durable steel construction, they can easily support up to 275 pounds.
Picnic party games are an excellent entertainment option! When you buy QB54, you can organize an exciting pastime for yourself, your family members, friends, neighbors at the best picnic party!
The game set is offered in various options. A wide range of colors allows you to choose the design you like.
You can find a lot of different football accessories in our online store, such as scoring kits, footballs, referee flags, hats, set of field goal posts, etc.
The price for the sets is affordable enough. It starts from $99.99. You just need to choose the color and design, and buy QB54. You will enjoy this game with your friends and families at any time!
FAQ
How to liven up my picnic party?
A picnic party involves many interesting activities. Picnic is a great opportunity not only to eat foods and have refreshing drinks, but also to play active and engaging games. QB54 is the best picnic party games. Your guests will enjoy it. QB54 can be played one on one, or two on two. The rules are very simple, so you can play it with your kids.
What is the best active game for picnic party?
Is QB54 picnic party game perfect for everyone?
Where can I order picnic party game?