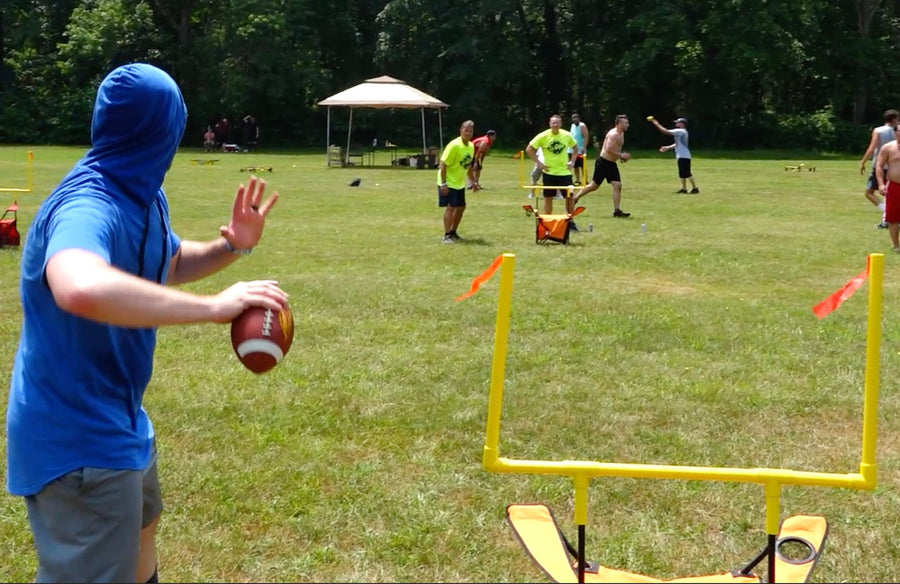 Tailgate Party Games
Picnic and barbecue are an essential part of relaxation at the beach, outside the city and your home backyard. While waiting for delicious food and refreshing drinks, you can offer your guests to play some activities, not to get bored. And the best option here is a tailgate party game.
QB54 is an extremely interesting alternative to rugby, basketball, and other ball games. This fun tailgate party game set consists of a small number of accessories – two camping chairs and a ball. Small goals are attached above each chair, and a basket is built into the seat. This means that you can play it with your hands or feet. Moreover, the chairs can be used for their intended purpose during the breaks between matches: you can relax sitting on them. The chairs can easily support up to 275 pounds.
The classic 9-inch rugby ball is made of composite leather. It fits comfortably in the hand. Inside the ball, there is a latex air chamber, that allows to inflate it with a pump. The set is durable; it quickly unfolds. The game itself is compact and easy to transport. It won't take up much space in a trunk. When you go out of town, take QB54 with you and enjoy your pastime. This is the best tailgate party game to play anywhere!
It was invented by two brothers, Michael and Frank Silva. As children, they came up with an entertainment for themselves and could not think that thousands of people would play it today!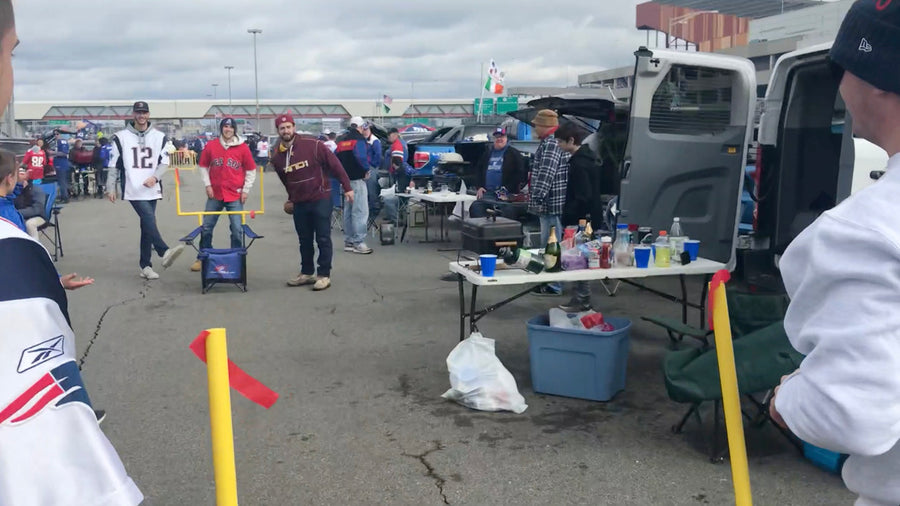 Where can I play this game?
QB54 is a universal way to have fun in all situations. This is popular picnic party game, which is the perfect option for friendly gatherings with tasty treats and refreshing drinks. The football chairs are equipped with anti-slipping pads, so you can play QB54 on grass or sand.
Are you looking for something extraordinary? Do you need an exciting game for a fantasy football party or an active and dynamic lawn party game? You can use the basic rules of QB54 but come up with your own scoring system, choose any number of participants for each team, and determine any distance between the camping chairs. You can even organize this mini-football game indoors in your living room, just make sure to observe safety precautions. However, QB54 is the best tailgate party game.
Who will like QB54?
Kids
Need to entertain the little guests? QB54 is a great game for kids. The rules are easy enough to remember. After just a couple of rounds, the kids will understand the game process. Moreover, when following the instructions, the game is considered to be low-traumatic and safe.
Adults
It's an engaging game for adults, perfect for a tailgate party game. It is a great opportunity to relax and show off your skills.
Professional athletes
Even experienced rugby players can benefit greatly from QB54. This engaging beach party game can serve as a substitute for a full-fledged sports activity, as it trains agility and accuracy. So, you will have fun with your friends and kids.
OUR BIGGEST SALE
OF THE SEASON!
Based on 214 Customer Reviews
OUR BIGGEST SALE
OF THE SEASON
🏈 QB54 is Taking the World By Storm! The Hottest Game on the Market!

🏈 Each Game Set is action-packed!Highly Addictive!

🏈 QB54 has all the elements of football without the CONCUSSIONS!

🏈 When finished form into 2 usable chairs that support up to 275 lbs each!
How to play QB54?
There are basic rules invented by the Silva brothers, but you can adjust them, depending on your level of training and the conditions in which you will compete.
There are basic rules invented by the Silva brothers, but you can adjust them, depending on your level of training and the conditions in which you will compete.
Start by placing the chairs with nets opposite each other. A distance of 40 feet is considered standard, but you can adjust it individually. You can play in teams of 2-3 people or more, or compete one on one
It's an exciting tailgate party game, suitable for both kids and adults. Scoring system is easy. Players take turns throwing the ball into the basket. The player earns 3 points for hitting the chair on a fly.
If the player throws ball into the basket (touchdown), the team earns 6 points. Score touchdown, kick for extra point. Earn an extra point by kicking through goal posts. If the ball bounces on the ground from the throw and lands in the basket, the team gets 2 points. Defending team can earn 3 points if they catch a rebound ball from the chair before it hits the ground. You can read the complete set of rules on our website
When one team reaches 48, 36, 24, or 12 points, the teams switch sides. The first team to get 54 points win the game
QB54 is the best BBQ party game that will entertain both kids and adults. Its main advantages are multifunctionality (suitable for playing with both hands and feet, and chairs can be used for relaxation), universality (suitable for people with any level of training, any age), safety (the set has no sharp corners and small parts. If the rules and safety instructions are followed, it is impossible to get serious injuries). In addition, QB54 tailgate party game is easy to use: the set can be installed and assembled in a couple of minutes on any flat surface. QB54 is fun and engaging game. Thanks to the compactness of the game set, you can take it with you to any party. The football chairs don't require a lot of space. All you need is to find flat surface and place the chairs opposite each other.
Buy this exciting tailgate party game and have a great time with your friends.
FAQ
What is the best tailgate party game?
QB54 is the ultimate game!It's a compact set consisting of a ball and two camping chairs equipped withgoalposts and nets. The chairs can be easily and quickly unfolded and placed onany flat surface at a certain distance. QB54 is suitable for both beaches andsmall backyards. The game is universal, so it's perfect for any party!
Is it possible to play tailgate party game with kids and friends?
Where can I order game for tailgate party?
How long does it take to deliver tailgate party game?