Lawn Party Games
If you live in house or cottage, you have a unique opportunity to organize cool parties on your own lawn. QB54 will a great option for such parties. Everyone will like it very much.
If you want to combine pleasant relaxation, with some active games, QB54 lawn party game will be the best option here. It has very simple rules, so even kids can play it. You can play it on the lawn or backyard. And after the competition, you can relax near the pool, have refreshing drinks and grill some meat. Your guests will definitely like such pastime.
What do you need to play QB54?
The fans of classic football and basketball will love this fun lawn party game, as QB54 is a perfect combination of these sports. It takes the best from each – from basketball, a net, and from football, a 9-inch ball for throwing. It is a great opportunity to train your agility and accuracy.
You don't need to gather a big team. Even two people can play this game. And you don't need to install some special equipment for the game. The game set includes two camping chairs with the net at the bottom of each seat, and shields on the backrest. There is also a bag for storage and transportation.
If you want, you can buy additional accessories, including a scoring kit, referee flags, a set of goalposts, player hats, fan flags, and face mask. These accessories can make the game more interesting and easier to play.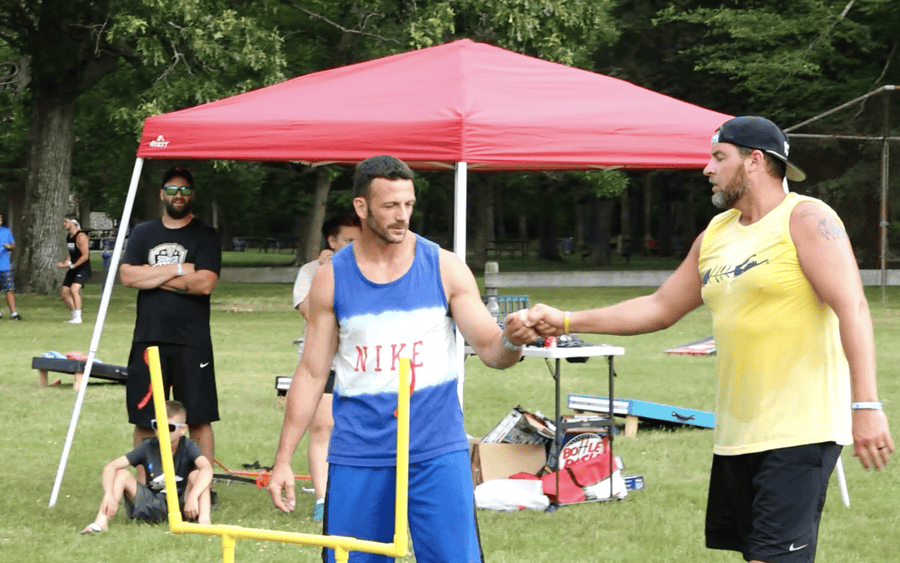 How to play QB54?
QB54 is not just entertainment. It is the best lawn party game that is suitable for both kids and adults, because its rules are easy to understand.
The essence of QB54 game is to reach 54 points. Before starting the game, you need to choose a flat surface and place two camping chairs opposite each other, with the distance of 40 feet between them. The players can change the distance due to their preference, skills and age.
This game became very popular, because you can play it one on one, or two on two. If you play it one on one, then the players are playing from opposite sides. If you play QB54 two on two, then the teammates are on opposite sides.
The scoring system is quite simple. The player or team earns point for certain actions:
Hitting the chair on a fly – team earns 3 points;
Player throws ball into basket (touchdown) – team earns 6 points;
kicking through goal posts – team gets 1 point;
If the ball bounces on the ground from the throw and lands in the basket, the offensive team gets 2 points;
Defending team can earn 3 points if they catch a rebound from the chair before it hits the ground. Defending team must allow the ball to hit the chair first.
QB54 is the best lawn party game. You can also play it during tailgate party. This is a popular picnic party game. If you find a flat surface, you can start the game. QB54 is the best active game for any occasion.
The rules of the game allow interceptions. Intercept a thrown ball that hits any part of the chair (including goal posts) before it hits the ground. You can earn 3 points, if you take a knee immediately after interception. After interception is made, run to opposite goal until touched with 2 hands by opponent. Throw ball into the basket and get 6 points. If you catch a missed ball with one hand only, you will earn 1 extra point.
During the game, the teams switch sides, when the leading team reaches 12, 24, 36 or 48 points. The rules of this lawn party game for family provides the losing team with the chance to save the game. To do this, subtract the winning score by the losing score to determine the number of steps. For example, 54-24=30 steps. The player takes 30 steps away from goal and turn around to face your opponent's goal. If a touchdown is thrown from the Hail Mary pass you win.
During the game, it is allowed to make backward and sideways throws, block opponents' actions during interceptions. QB54 is an easy tailgate party game. It is thrilling and exciting. It doesn't require any special equipment, knowledge, skills or abilities. All you need is to buy QB54 game set and find the flat surface for the game. Have a great time with your kids at your backyard.
OUR BIGGEST SALE
OF THE SEASON!
Based on 214 Customer Reviews
OUR BIGGEST SALE
OF THE SEASON
🏈 QB54 is Taking the World By Storm! The Hottest Game on the Market!

🏈 Each Game Set is action-packed!Highly Addictive!

🏈 QB54 has all the elements of football without the CONCUSSIONS!

🏈 When finished form into 2 usable chairs that support up to 275 lbs each!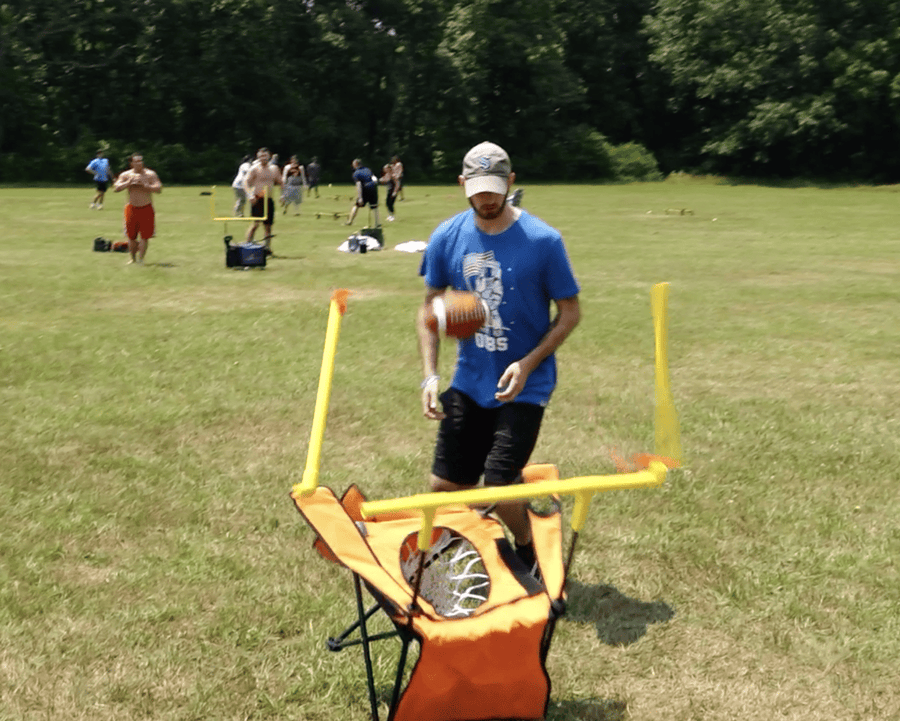 Where else can you play QB54?
The lawn party game was created not just for home entertainment. Thanks to its compactness, it can be transported in a car or even carried by hand. It won't take up much space.
For example, QB54 is perfect for a beach party. After swimming and eating snacks, you will definitely want to have some fun. QB54 is a cool beach party game! You don't need any special conditions or nets. You just need to place two camping chairs opposite each other and start a match. QB54 is suitable for any occasion. If you have BBQ party, you have to provide your guests with some active entertainment. And QB54 game set is a perfect option for such parties.
If you have QB54, you don't need to buy any other BBQ party games for friends. Take the game set, explain the rules, and start the competition.
Playing this lawn party game for friends and family, you will definitely have fun. This game was created by two brothers, Frank and Michael Silva, when they were kids.
But in 2016, they launched their online shop and introduced this fun game for the whole world.
QB54 became very popular thanks to its simple rules. It is suitable for everyone. If you are looking for lawn party games, QB54 will be the best option!
FAQ
What games to play at lawn party?
Lawn parties are a great opportunity not only to have some food and drinks, but also to play active games and have fun. The most popular game for such occasions is QB54. The game set consists of two camping chairs with nets at the bottom of each seat, and a classic rugby ball. Find a flat surface and start the competition.
What is the best lawn party game?
Where to order game for lawn parties?