Fantasy football party games
Playing QB54 at fantasy football party is a great alternative to traditional football! For those who are passionate about this sport, creating and participating in a fantasy league can be a lot of fun. Organize a fantasy football party and guarantee a great time for you and your guests. Once you try it, you will want to play it again!
QB54 is fantasy football party game for adults and kids. It's versatile, engaging, challenging enough to keep you entertained. At the same time, the game is simple enough, that's why it is incredibly popular.
The best fantasy football party game
Do you like beach party games? Do you often organize BBQ party games in the backyard? In all these cases, QB54 will the great option. This fantasy football party game set can turn a friendly gathering into a real football competition!
This type of game is designed for anyone who prefers an active lifestyle and enjoys spending time with friends. It is a universal game set where each element can be used for other purposes. You can just throw the ball, compete in accuracy, play football, relax in camping chair.
The game was created by two brothers who, during their childhood, liked to invent entertainment for themselves. They played QB54 until they grew up, and then decided to introduce it to others. In August 2016, the brothers launched their online store. There are game sets of different colors and designs. You can also buy various game accessories on our website.
Game equipment
QB54 set consists of three elements:
• Two camping chairs: they combine the function of football goals and basket. There is a net instead of the seat. The fantasy football party game is the perfect combination of football and basketball, taking the best and most interesting aspects from each.
• A classic 9-inch rugby ball made of soft composite leather, which provides good grip with the hands. There is a latex air chamber inside the ball.
The chairs unfold and fold easily. When unfolded, they can be placed in any desired place, so you can start lawn party games. When you remove the net, the chairs can used for their intended purpose.
QB54 main rules
This is a very fun fantasy football party game. Thanks to it, you can easily organize an active holiday. Every guest can participate and enjoy QB54.
To start the game, you need to unfold camping chairs and place them opposite each other. The game creators consider 40 feet to be the optimal distance between them. You can change the distance due to the players' skills, preference, and age.
You can play QB54 with different teams' line-up. A team can consist of one, two or more players. Their main task is to throw the balls into the basket in turn. The first team to earn 54 points wins.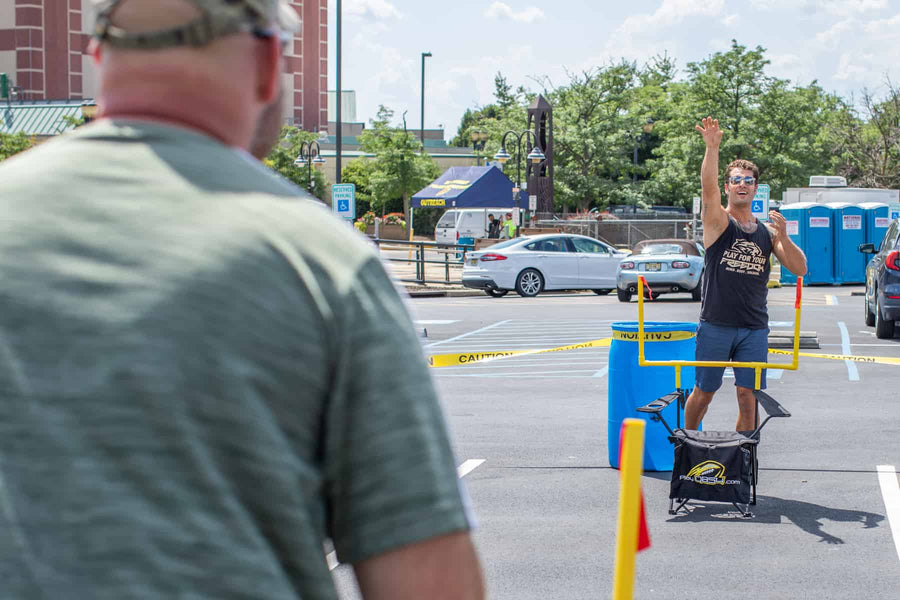 Fantasy football party game for kids has quite an interesting and variable scoring, as each different type of throw earns different number of points. All of this is detailed in the instruction for the game set, but the basic scoring rules look like this:
• Hitting the chair on a fly – 3 points;
• Throwing a ball into the basket – 6 points;
• An extra point is earned for kicking the ball through goal posts;
• The ball bouncing on the ground and then landing in the basket – 2 points;
• if the player catches a rebound from the chair before it hits the ground – defending team can earn 3 points.
After a leading team reaches 12, 24, 36, or 48 points, they need to switch sides.
Also, there is an interception rule. It is always in play for the other team. After the interception, you need to run to the opposite goal until touched with two hands by the opponent.
OUR BIGGEST SALE
OF THE SEASON!
Based on 214 Customer Reviews
OUR BIGGEST SALE
OF THE SEASON
🏈 QB54 is Taking the World By Storm! The Hottest Game on the Market!

🏈 Each Game Set is action-packed!Highly Addictive!

🏈 QB54 has all the elements of football without the CONCUSSIONS!

🏈 When finished form into 2 usable chairs that support up to 275 lbs each!
Where to play QB54
This is the TOP fantasy football party game. It's so fun and simple that you can arrange matches almost anywhere. You can play it at the following occasions:
• Beach party games. This format is all about fun, and sports activities by the sea, lake, or river. But if you need to find equipped playgrounds for beach football or volleyball, then QB54 will allow you to play just on the sand. All you need to do is unfold the camping chairs and get the ball out of the backpack.
• BBQ party games. Such party provides for grilled meat, refreshing drinks, delicious desserts, and socializing. And after all of this you need to organize some active recreation not to get bored. The best fantasy football party game will help keep you in good physical shape and build team spirit among your guests.
• Lawn party games. QB54 is a great option if unexpected guests show up. Put two camping chairs with nets opposite each other, and have a great time with your friends and neighbors. Read the rules and start the game. Playing QB54, your guests will definitely have a great time together!
• Picnic party games. Birthday, meeting with friends, anniversary, weekend outside the noisy city is a great opportunity to organize a picnic! And if you like to play different activities, QB54 will be a perfect option. The rules of the game are very simple, so it is suitable both for adults and kids. Have a good time with your family.
This is the best game for fantasy football party for adults and kids. In such a simple way, kids will like sports, learn to be on a team, and improve their accuracy.
Why QB54 is the perfect fantasy football party game?
The creators of this game have carefully thought out every element and detail. As a result, game equipment can be used for other purposes. The game set has an original and stylish design. This is the top fantasy football party game, one that you'll always want to play!
The seats and backs of the chairs are made of dense synthetic material with water-repellent properties. They withstand sunlight and moisture well. The legs have special pads that provide stability to the chairs. They won't slide even on grass. The ball is made of composite leather. Inside the ball, there is a latex two-layer chamber, which, if necessary, can be inflated with a pump.
QB54 is a game for awesome fantasy football party!
This game is characterized by its compact size, which completely eliminates transportation and storage problems. Another significant advantage is that QB54 fantasy football party game is inexpensive.
In addition, there are other features of the game:
• Universality: it will be interesting for both adults and kids to compete in accuracy and agility;
• Safety: QB54 game equipment is of high quality. There are no sharp corners.
• Multi-functionality: the chairs from the game set can be used for the rest in nature during breaks between matches, and the ball can be used to play other sports games;
• Health benefits: active outdoor games are good for everyone's health;
• Practicality: when you buy the game set, it is ready to use. You just need to find flat surface and place chairs opposite each other. Game equipment is made of high-quality materials, so it will serve you for years;
• Simple rules: even the beginners can easily understand the rules and play this awesome game.
Playing QB54 during fantasy football matches, you will definitely have fun with friends.
FAQ
What active game to play at fantasy football party?
The best option here would be QB54. It will be very interesting to play this game at fantasy football party. QB54 is a combination of football and basketball. So, it is also very popular among professional football and basketball players. It is available to people of all ages. It has simple rules, and even kids can easily play this game.
Where can I buy the best fun fantasy football party game?
How long does it take to deliver my order?