BBQ Party Games
BBQ party is a great opportunity, not only to cook delicious meat and have some drink, but also a great way to spend time with friends. During such a party, you can enjoy heart-to-heart talks, interesting conversations, delicious food and, of course, active BBQ party games.
The list of games is very diverse and depends on the interests of guests and hosts. But as experience shows, ball games are the most popular at barbecue parties. Thanks to its simple rules and minimal equipment requirements, QB54 BBQ party game immediately gained popularity among everyone who likes to have fun with friends. This game doesn't require any special knowledge and skills, so even kids can play it.
What do you need for QB54 game?
QB54 is a set consisting of two special camping chairs and one rugby ball. There is a small net at the bottom of each seat. It looks like a basketball net. The rules provide for the creation of two teams, each of which can include one or more players. Their main task is to score as many points as possible. Each type of throw is valuated differently:
team/player gets 3 points for hitting the chair on the fly;
an extra point is earned for hitting the goal posts;
win game if your kick goes into the basket;
team/player gets 2 points if the ball bounces on the ground from the throw and lands in the basket.
When one of the teams reaches 12, 24, 36 or 48 points, it is necessary to switch sides. At the same time, the losing player or team can make one additional throw to save the game.
During QB54 game, attacks can be made from the sides and other players can be blocked during interception. The rules and scoring are detailed in the instructions for the game set.
The gameplay continues until one of the teams reaches 54 points. Such team wins. There is nothing particularly complicated about this game, so both children and adults like BBQ party game.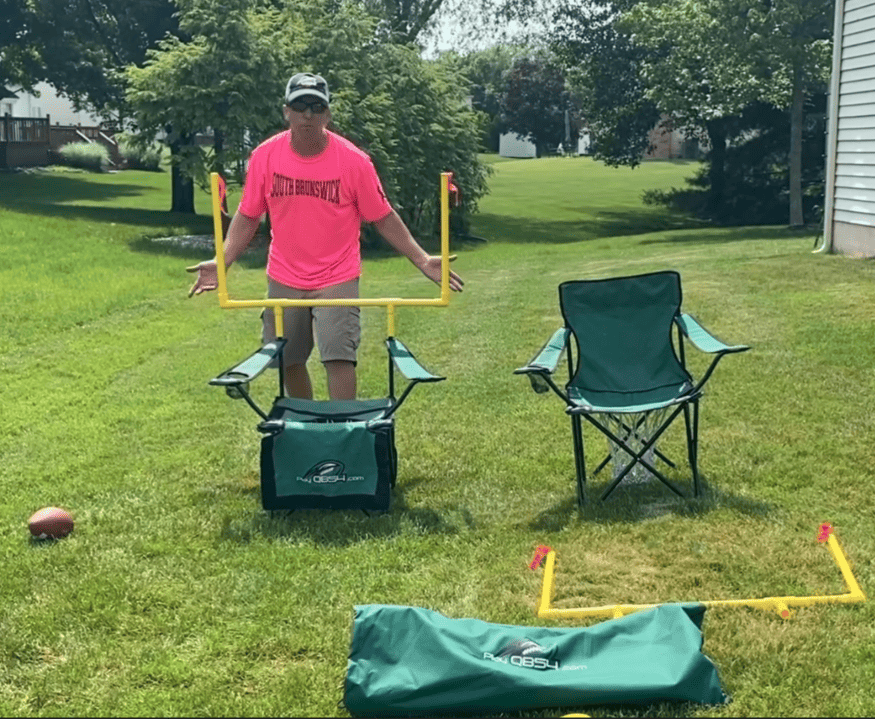 QB54 features
You will have a perfect fantasy football party if you decide to purchase this game option. The cost of QB54 game is quite affordable, and the wide variety of designs allows you to choose the most suitable set. It's a truly fun lawn party game. The manufacturer suggests using it in many other occasions as well. You can play it at picnics outside the city, in the school stadium, in your backyard, during a camping trip, at summer camp, and many other occasions. For example, in the United States, it has proven to be the best tailgate party game.
You can use QB54 game set very often and not worry about its durability. The manufacturer has done it for you. The chairs have a stable construction, which is made of durable metal coated with an anti-corrosion protective coating.
The covers are made of practical fabrics, that can easily withstand ultraviolet light and other weather conditions. There are special pads at the bottom of the chair legs, that prevent slipping and sinking into unstable soil or sand. The game set includes classic rugby ball made of composite leather. It fits comfortably in the hand. Inside the ball, there is a latex air chamber, that allows to inflate it with a pump.
The installation of QB54 BBQ party game equipment doesn't require any special tools. Also, there is no need to make goal posts, or think about the safety measures.
The chairs are easy to fold and unfold. The game set is space efficient. It won't take up much space in a trunk. That is why this game is also a perfect option for beach party game.
OUR BIGGEST SALE
OF THE SEASON!
Based on 214 Customer Reviews
OUR BIGGEST SALE
OF THE SEASON
🏈 QB54 is Taking the World By Storm! The Hottest Game on the Market!

🏈 Each Game Set is action-packed!Highly Addictive!

🏈 QB54 has all the elements of football without the CONCUSSIONS!

🏈 When finished form into 2 usable chairs that support up to 275 lbs each!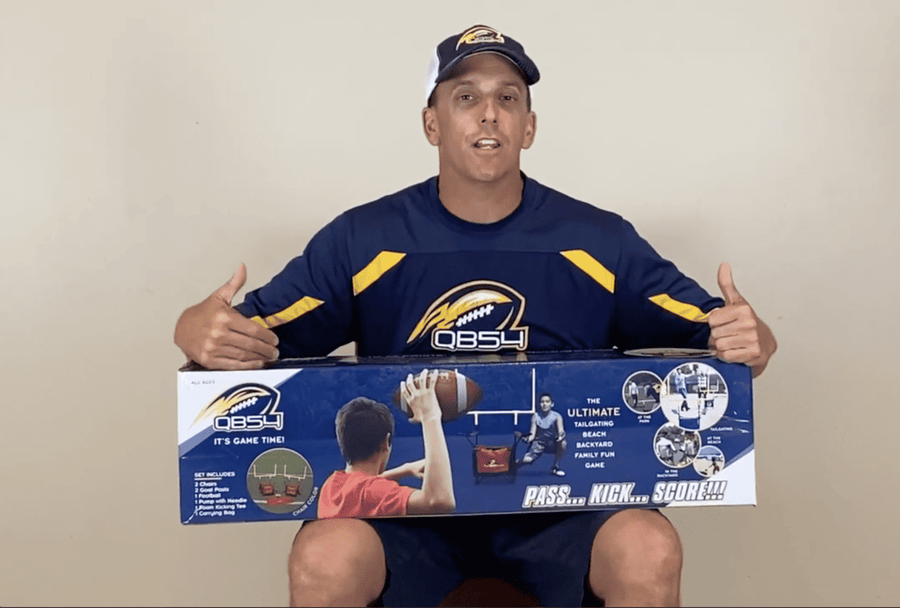 Who is the creator of QB54?
This fun BBQ party game was designed and engineered by Frank and Michael Silva for active pastime with friends and families. They often came up with various activities for themselves so as not to get bored.
The idea of the game was born on Thanksgiving Day, when the guys were home alone and were already starting to get bored. They played the first game in their backyard, and used trash cans instead of baskets for the balls. And the code name for the fun game was QB54 or "Thanksgiving Classic". So even now, when one of the brothers says "Thanksgiving Classic", the other immediately takes the ball, and they go to play in the yard.
A little later, Frank came up with the idea of using camping chairs instead of trash cans. There was a little net at the bottom of the chair. The boys enjoyed the game very much. Very soon their game became popular among their school friends.
Years went by, the brothers grew up, but the active BBQ party game QB54, still was their favorite game. The brothers have been perfecting this game for over 30 years. In 2016, they decided to launch online shop, where everyone can order the game. Each QB54 game set has a unique design. This TOP picnic party game has been popular among Americans for many years. If you have any questions, you can find the answer on the website, or reach out to both of brothers via email.
What are the advantages of QB54?
This game is the perfect combination of entertainment and sports. The best BBQ party game is an opportunity to train, show off your skills and work on team spirit. Thanks to the simple rules, this game is very popular among kids and adults. It is suitable for players of all ages.
There are many advantages of this awesome game:
Universality – game can be used for trainings and skill development. It combines basketball, football, rugby, and allows you to play practically anywhere as a team or one on one;
Compactness – very important feature if you transport game set by hand;
Easy to use – the chairs are easy to fold and unfold;
Safety – if you follow the game rules, there will be no injuries during the gameplay;;
Simple rules – easy to understand for both new and experienced players.
The QB54 equipment can also be used for other purposes. The camping chairs included in the set can be used for sitting during outdoor activities such as fishing, picnics, etc. The ball can also be used for classic rugby. In general, this is the TOP BBQ party game, that everyone will enjoy!
FAQ
What game should you play at BBQ party?
Barbecue party allows you to try your skills indifferent physically active games. Ball games, which are loved by almosteveryone, are the best option here. One of the most suitable game is QB54,which is a successful combination of football and basketball. With its help,you can improve your physical skills. QB54 game allows to play as a team, or one on one. The first team/playerto reach 54 points wins.
Where can I order BBQ party game?
How much does BBQ party game cost?