Beach Games
QB54 – one of the best games! An active lifestyle is important for health and personal development. And this applies to leisure activities as well, whether it's by the sea, river, or any other body of water. It's simple and dynamic, and is suitable for both two people and a large group!
Active games on the beach allow you to relax while also benefiting your health. There are countless variations of these games today, but the most popular one is QB54. You may wonder how this format can be combined with swimming and sunbathing, but it's very simple – it's a universal game for all occasions!
QB54 - the best beach game!
Summer is the best time of the year. On these days, everyone wants to bask in the sun, get a beautiful tan, and swim in clear, cool water. The best place for such pastimes is, of course, the beach. The fresh sea breeze, healing rays of the sun, and refreshing water – what else do you need for a good mood!
At the same time, many people plan to not only relax but also spend their time as actively as possible, and beach party games become an indispensable attribute here. They allow you to improve your mood, stay healthy, get the right mindset, and develop team spirit.
Beach games with friends include a long list of entertainment options. Some people prefer an entertaining format, while others prefer intellectual fun, and some enjoy sports competitions, and this is where QB54 becomes a universal solution. After all, it's fun, exciting, and not difficult to play.
As practice shows, games on the beach are the most popular and in-demand for most people who have a rest near water. These games provide an opportunity to have fun, demonstrate physical fitness, and unite those who are on vacation into a single team. That's why QB54 is so popular, and in any favorable circumstances, it is played while being on vacation
Fun beach game QB54 – basic rules
The developers of this game assure that everyone who tries it at least once in their life will enjoy such entertainment. Those who have played it before definitely confirm this. This is the best beach game that is perfect for those who love football and basketball, as this format perfectly combines both games. At the same time, you don't need to look for a specially prepared field, install equipment, or do a lot of other unnecessary things to enjoy the game process. All you need is just to take the game with you on vacation – it is incredibly compact! Such portable beach games are very convenient.
The essence of the QB54 game is very simple: you need to throw a ball into a net that is placed in a camping chair. The throwing distance is determined by the rules in your group – it can be 5 steps or 25 meters, the choice is yours!
To play the game, you need to form two teams, each of which will take turns throwing the ball into the net. Participants play 1x1 or 2x2, or in any other format that you come up with.
The sand game continues until one of the teams scores 54 points – and this team is declared the winner. You can score points by completing a touchdown, interception – thus you get additional points. Actually, the last rule determines the digital part of the game name – QB54
As you can see, everything is as simple as possible. With its appearance, beach football games have replenished with a great option that is perfect for everyone!
How points are scored
• 3 points – for hitting the chair on a fly;
• 6 points – for throwing the ball into the basket;
• additional point – by kicking through the goal post;;
• instant win - if your kick goes into the basket;
• 2 points - if the ball bounces on the ground from the throw and lands in the basket.
When the leading team reaches 12, 24, 36, or 48 points, teams/players switch sides. The first team to reach 54 points wins. The losing team has the right to a bonus throw.
OUR BIGGEST SALE
OF THE SEASON!
Based on 214 Customer Reviews
OUR BIGGEST SALE
OF THE SEASON
🏈 QB54 is Taking the World By Storm! The Hottest Game on the Market!

🏈 Each Game Set is action-packed!Highly Addictive!

🏈 QB54 has all the elements of football without the CONCUSSIONS!

🏈 When finished form into 2 usable chairs that support up to 275 lbs each!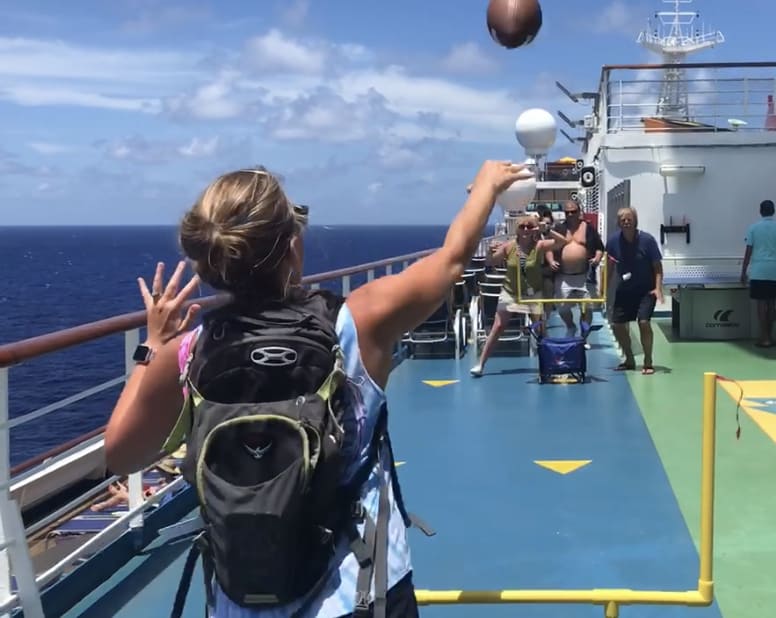 Where to play QB54
This format of the game at the beach is recommended for everyone who likes active pastime. However, this does not mean that the game is limited to beach only. In fact, this is a fun beach game that can be used in other locations: on a school stadium, as picnic games, in the courtyard of an apartment house, in a kindergarten, in a recreation camp, during hikes, as BBQ games, and more. It is appreciated by adults, but it is also great for children.
Anyone who knows how to hold the ball in their hands can practice and compete in the accuracy of throws with an opponent. Such beach toss games are played by businessmen, students, office workers, professional athletes, the elderly people, and active youth.
QB54 – a great option for playing at BBQs and backyard parties.
Playing beach games with QB54 is not the only format known to players. As usual, anyone who organizes leisure activities with BBQs or backyard parties certainly has this game. Interestingly, the process itself can take place not necessarily on the plot near the house. Oftenparties take place in car parks near stadiums or arenas, before or after matches, festivals, and concerts. Moreover, you can gather and play QB54 just for fun – these are fun beach games that can be played absolutely anywhere! Participants bring food, drinks, and other treats and start competing.
What are the advantages of portable beach games?
It is understood that the reason for the popularity of such beach games must have weighty grounds. Simple rules of the game and accessibility, mentioned earlier, are not the only aspects by which one can judge the advantages of playing QB54. It is an excellent tailgating game.
Low level of injury
If you follow the rules of the game, the playing process will be safe. The durable covers of chairs' leg prevent them from slipping on wet grass or sinking into the ground. Each chair can easily support up to 275 pounds.
Other equally important positive aspects include the following:
• universality – the game is perfect as sports equipment for serious training and for entertaining pastime;
• compactness – in its folded form, the set does not take up much space in the trunk and can easily fit in a bag or backpack;
• comfortable use – chairs with built-in nets are quickly fold out without any special physical effort;
• complete safety – if the rules are observed, the game does not create hazardous situations;
• multifunctionality – playing football chair game is not just fun: if necessary, chairs can be used for their intended purpose.
Another important feature that makes this game popular is the absence of the need to use any tools to set up the main equipment. You don't need to attach a volleyball net or set up football goals. These beach games with friends are incredibly simple! Just unfold the chairs, place them in any convenient location for you – on a flat surface, grassy lawn, sand and you're all set!
It's worth noting the incredible practicality of the main components that come with the game. The user is offered a set of three basic elements – two camping chairs and one soccer ball. The chairs are made of sturdy polyester fabric that is waterproof and has dirt-repellent properties. The reliable frame, as well as the upper structure used in the game, is made of impact-resistant metal.
The powder coating on the surface provides protection against corrosion of the metal elements. The strength of the structure when used as a camping chair allows it to support a weight of up to 275 pounds. The legs at the bottom are equipped with non-slip pads that prevent the device from sinking into loose sand or soil. The presence of side armrests provides comfortable rest after training or sports competition. Alternatively, the one who won rests.
Another important component included in the set is a classic rugby ball which measures 9 inches. It can be used when you need to organize activities at the beach or just have fun. The outer coating provides good grip, providing excellent aerodynamic characteristics without sacrificing durability. The ball's service life is increased by using several layers of high-quality synthetic material as a lining. Inside there is a latex bladder equipped with a nipple for deflation.
One distinctive feature of such sets is the possibility for each buyer to choose their own format. Chairs and balls are offered in a range of colors and shades, allowing you to choose the most suitable for you. Thus, your beach game with friends QB54 will be unique and different in color from others.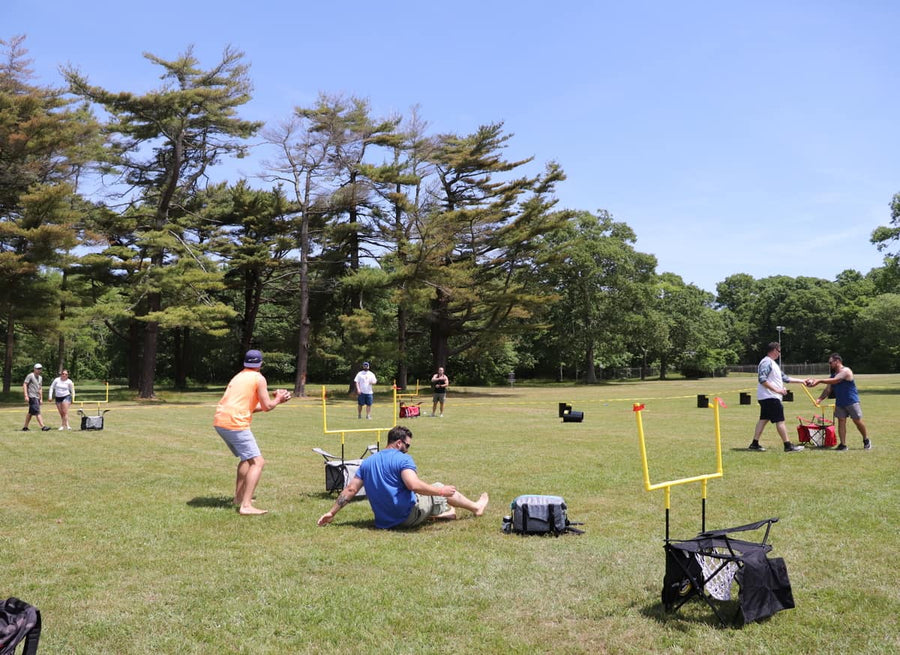 Who created QB54?
The creators of this game are the Silva brothers, Frank and Michael. Thanks to them, portable beach games have been enriched with an incredibly interesting entertainment option, designed for large groups or families. Since their early childhood, they invented unconventional entertainment for themselves, so they never got bored.
One day, when they were 9 and 12 years old, they were home alone on Thanksgiving Day. Watching football on TV seemed boring to them, so the brothers decided to go outside and play. Of course, playing football with just the two of them was quite a challenge, but Michael and Frank quickly found a great solution. The idea came to them when they realized they could use trash cans. By setting them up, they could throw the ball back and forth indefinitely. Their parents didn't appreciate their idea, but the boys liked the game so much that they soon gave it a name – QB54 or "Thanksgiving Classic".
After a while, Frank came up with the idea of replacing the trash cans with camping chairs, attaching a net underneath to catch the ball. Gradually, this format became popular as a beach game for children. Friends and parents played QB54. Played for hours on end, unable to stop due to the exciting nature of the game. As time passed, the boys grew up, moved to different cities, but whenever they met, their code word "Thanksgiving Classic" meant that they had to drop everything and go play QB54.
The brothers opened an online store selling this game only in 2016, although work on its improvement lasted over 30 years. They offer sets for everyone, answering all questions of users. It is very easy to order game sets – you just need to decide on the color of the chairs and the design of the ball, and submit a purchase request directly on the website. By choosing QB54 for an enjoyable pastime, you can be sure that there will be fun and great mood at your next gathering. Such beach games for adults are a lifelong find!
FAQ
What is the best beach game?
A beach game is a special format that involves not only an interesting pastime, but also often sports training. When a large company gathers on the beach, sooner or later, everyone comes to the realization that it would be good to do some physical warm-up exercises. In this sense, the QB54 game will be the best decision, as it has very simple game rules and safe, convenient equipment. Absolutely everyone can play it - adults, children, men and women.
What fun activities we can do at the beach?
How to have fun on the beach with kids?
Where to buy game to play on the beach?