Portable Beach Game
Sport is a movement, and movement is a life. It is a great opportunity to enhance your physical and mental health. You can also train your agility and accuracy. Thanks to QB54 beach game you can exercise anytime and anywhere!
This portable beach game has many advantages: compact size and light weight, affordable cost, and the ability to choose your favorite color. It is suitable for people of all ages. You can take it with you on vacation and on trips. Also, you can have competitions in your backyard.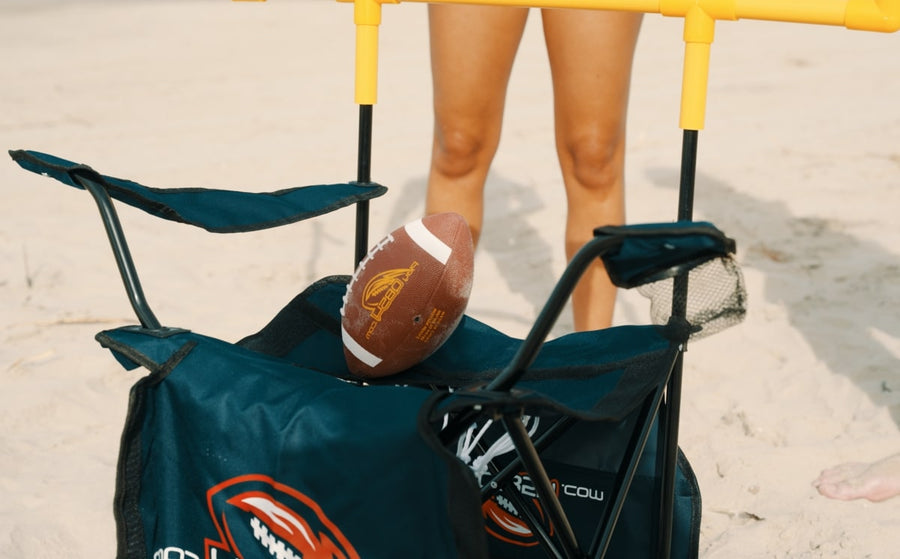 What is included in QB54 game set?
QB54 is a successful combination of football and basketball. This portable beach game allows you to test your accuracy, work on team spirit, and lead your friends to victory!
The main requirements for such games are portability, convenience, and universality. QB54 is perfect option here, representing a successful combination of the most popular games.
The set includes two camping chairs with a metal frame and polyester cover. There is a net at the bottom of the seat. The legs are equipped with non-slip pads, making them stable on any surface – sand, grass.
A 9-inch rugby ball is made of composite leather. Each ball has an original print. There is a latex air chamber inside the ball. You can inflate the ball with a pump. Oval-shaped ball fits comfortably in the hand.
QB54 portable beach game is available in several colors. Everyone can choose their favorite. This game set won't take up much space in your sports bag or car trunk. It's quick and easy to assemble. You don't need to spend a lot of time preparing for the game.
OUR BIGGEST SALE
OF THE SEASON!
Based on 214 Customer Reviews
OUR BIGGEST SALE
OF THE SEASON
🏈 QB54 is Taking the World By Storm! The Hottest Game on the Market!

🏈 Each Game Set is action-packed!Highly Addictive!

🏈 QB54 has all the elements of football without the CONCUSSIONS!

🏈 When finished form into 2 usable chairs that support up to 275 lbs each!
How to play QB54?
First you need to form two teams with the same number of participants. However, you can also play one on one.
There is no need to make some special preparations for the game. You need to find flat surface and place two chairs opposite each other with the distance of 40 feet. You can change the distance due to the players' age, skills and abilities. QB54 is very simple game, so everyone can play it.
The essence of the game is to take turns throwing the ball into the opponent's basket. Points are counted according to a special scheme, which is described in detail in the accompanying instructions.
Easy portable beach game continues until one of the teams reaches 54 points. During the game, team or player gets points for certain actions:
hitting the chair with the ball – team/player gets 3 points;
throwing the ball into the basket – team/player gets 6 points;
hitting the basket after the ball bounces off the ground – team/player gets 2 points;
touchdown or kicking through the goalpost – team/player gets 1 extra point.
If the defending team manages to catch the ball after it bounces off the chair before it hits the ground, they earn 3 extra points. When team or player reaches 12, 24, 36 or 48 point, it's time to switch sides.
QB54 is a portable game for entertainment!
QB54 has a lot of advantages. This game set is very compact. You can put it in a bag or car trunk. It won't take up much space.
It's an interesting portable beach game that is suitable for all ages: its rules are very simple, so any player can play it. You can play QB54 during picnics on the lawn, in the backyard. This game is the perfect way to organize an active leisure!
FAQ
Where else we can play portable beach game?
Due to the compactness and ease of use, portable beach games are extremely popular. They are lightweight, fold quickly and do not take up much space in the trunk or backpack. This is a great option when you want to organize leisure time, and not just sit on the beach. QB54 can be used as picnic games, lawn games or yard games.
Where to buy portable beach game?
How much does it cost?