BBQ games for families
Barbecue parties are a common tradition in the United States. Usually, the whole family gathers together to discuss business and hobbies, share stories and enjoy meat cooked on the grill. This pastime can be perfectly complemented by QB54 – a cool BBQ game for family!
It will allow not only to have fun, but also to feel the spirit of rivalry, unite the team and compete in accuracy. Brother can play against brother; father – against son. Everyone will definitely like such a fun family entertainment. No one will be bored!
Features of BBQ game for families
QB54 is a unique game, because it is suitable for everyone. The rules are simple. It doesn't require any special preparations, specific knowledge or skills. All you need is a good mood and a sense of fun. Make accurate throws and win the game!
Such lawn toss games are suitable for both kids and adults, men and women. Your physical fitness doesn't matter. Everyone can play this game.
This game is very popular. It was introduced in 2016 by the Silva brothers. Having appeared relatively recently, many Americans have already liked this awesome game. It is liked not only by ordinary families but also by celebrities. Backstreet Boys frontman Nick Carter is among the fans of this entertaining game.
One of the main features of QB54 is the compactness of its equipment. Not much is needed to play: just a small flat surface with a maximum length of 40 feet. The set itself consists of a classic 9-inch rugby ball, two camping chairs with a net at the bottom of each seat, and goal shields on the backrest. There is also a bag for equipment storage and transportation. For example, if your relatives invite you to play BBQ games for families, don't forget to take QB54 game set. It won't take up much space in a car trunk. Moreover, you can easily carry it in your hands. This game will liven up your BBQ party.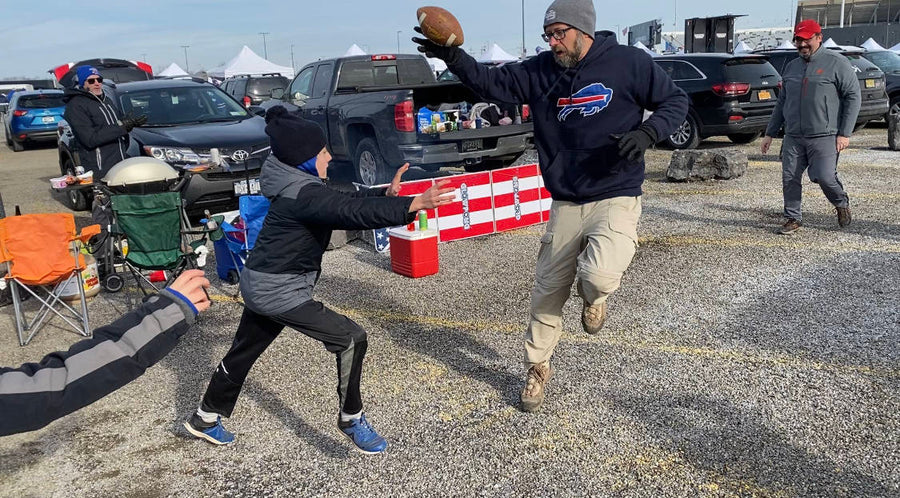 If you want to simplify the game, you can also buy additional accessories: hats for players, scoring kit to keep track of points, and a pair of referee flags.
The equipment of BBQ game for families is multifunctional. For example, you can remove the net and use the camping chairs for relaxation after the match, or while waiting for the meat to cook. The chairs can easily support up to 275 pounds. It is a gift for those who are always trying to find multiple uses for everyday items.
The ball itself is universal, so it can be used for other games as well. Even the bag can be used for purposes other than carrying the game set. Another characteristic feature of this entertainment is the simple rules that even a child can understand.
OUR BIGGEST SALE
OF THE SEASON!
Based on 214 Customer Reviews
OUR BIGGEST SALE
OF THE SEASON
🏈 QB54 is Taking the World By Storm! The Hottest Game on the Market!

🏈 Each Game Set is action-packed!Highly Addictive!

🏈 QB54 has all the elements of football without the CONCUSSIONS!

🏈 When finished form into 2 usable chairs that support up to 275 lbs each!
How to play QB54?
To start the best BBQ game for families, you need to find a flat surface. Since the game doesn't need a lot of space, you can play it in the backyard. You need to place two camping chairs opposite each other. The recommended distance between them is 40 feet. You can change the distance depending on the players skills, abilities or preference.
The game can be played by two to four people. There are different rules depending on the number of participants. In a one on one game, players are playing from opposite sides. In a two on two game, members of the same team are on opposite sides. When the leading team reaches 12, 24, 36, or 48 points, the teams switch the sides.
While playing QB54, the players take turns throwing the ball. During the game, there are opportunities to earn additional points. The scoring system is simple. Each player or team get point for certain actions. For example, a touchdown earns 6 points, kicking the ball through goal posts earns 1 point. Defending team can earn 3 points if they catch a rebound from the chair before it hits the ground. If the ball hits the ground and then lands into the basket, the team or player earns 2 points. Hitting the chair on a fly earns 3 points.
Players can use laterals to get closer to the opponent's goal posts. The rules of the game also provide for blocking during the interception.
Where else can you play QB54?
The universality of QB54 game set allows it to be used in various occasions. BBQ game for family is a perfect entertainment to spend time. Lawn toss games usually require a large number of players, but not QB54. It can also be played with a small team. This is an excellent choice if the family is small.
This awesome activity can be used as a picnic family games. All you need is to find a flat surface and start playing. When tired, you can remove the net and use chairs for their intended purpose. Other yard games for family doesn't have such advantage. QB54 is the best game that will not let you get bored.
FAQ
What game to play at BBQ with family?
Barbecue with the family involves active recreation. QB54 is the bestoption here. Thanks to simple rules, everyone can take part in the gameplay.This game does not require special knowledge, skills or abilities. In addition,there is no need to look for and equip any ground for it. You can play it inthe backyard, while the meat is grilled. The compactness of the set allows youto transport it even by hands.
Where can I order BBQ game for family?
How much does BBQ game for family cost?