Lawn toss games
Some sports games involve throwing or hitting a ball, but they usually require specially equipped fields or courts. However, when you go out of town, it's not always convenient to bring special equipment to set up something like goalposts or a basketball net. That's why QB54 lawn toss game is a perfect option! This game, invented by the Silva brothers, has become a true legend in America and quickly gained popularity in many countries around the world!
What do you need to play this game?
QB54 is a football toss game for friends that involves the use of two camping chairs. There is a net at the bottom of each seat and a shield-like structure at the back. All the elements are easily folded. Those people, who are always trying to find multiple uses for everyday items, will definitely like these chairs. If you remove the net, you can use them for their intended purpose. They can easily support up to 275 pounds.
QB54 game set includes a nine-inch rugby ball. It is made of soft composite leather. It fits very comfortably in the hand. There is a latex air chamber inside the ball. It allows to inflate the ball with the pump.
Folding beach toss game is multifunctional. You can play it not only on the lawn, but also at the beach. The chairs stand firmly on any flat surface. At the same time, there is no need to look for a large area. You can play on the small field.
It is also the best tailgate toss game before football match. Place the camping chairs opposite each other and enjoy the game.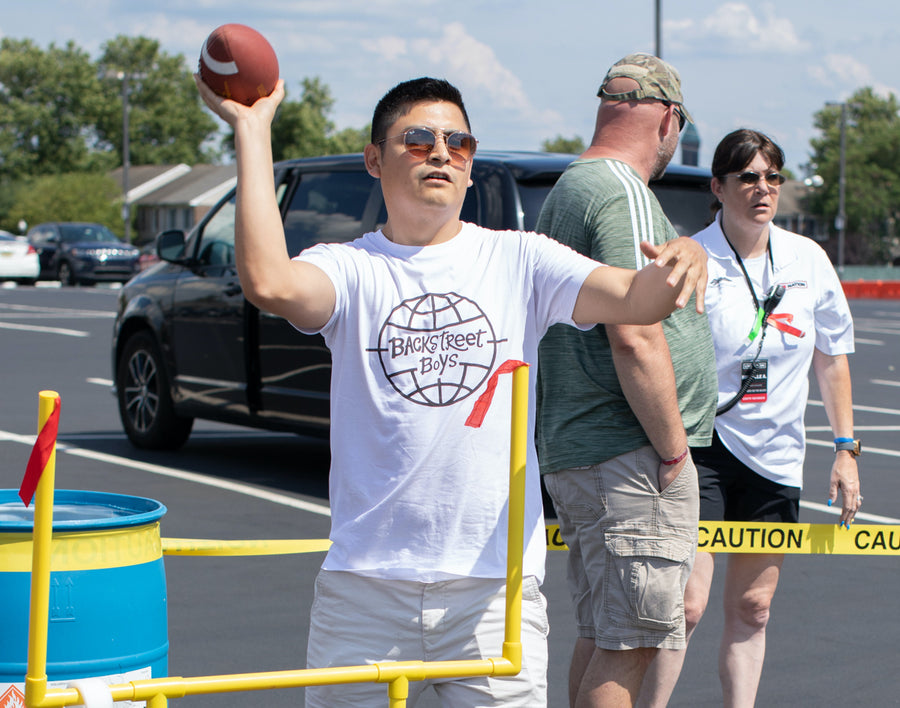 Who can play QB54?
Without exaggeration, it is the best lawn toss game. It is easy to use. Thanks to its simple rules, people of all ages can enjoy this exciting game.
During the summer vacation your kids will have a great time playing this active football chair game. The set is easily folded and unfolded, so they can set it up on their own. Such a game is a great opportunity for them to have fun, learn new skills and make new friends.
It is good opportunity for adults to escape from the routine and throw a party with an entertainment that brings lots of positive emotions.
The lawn toss games are suitable for professional rugby players and basketball players. QB54 is a wonderful opportunity to organize trainings and perfect your throwing skills. You can use any open space to play the game. No additional equipment is needed. QB54 game set is compact and won't take up much space in your car trunk. You can easily transport it even in your backpack.
Main rules of this game
To start playing QB54, agree on how you will score goals: either by throwing the ball into a basket or trough the goalposts, like in rugby. Then, place the camping chairs opposite each other, with the distance of 40 feet or less between them. You can play one on one, or two on two.
The players take turns throwing the ball and earning the points for certain actions:
hitting the chair – the player earns 3 points;
if the player throws the ball into the basket, the team gets 6 points;
kicking through goal posts – the team earns an extra point;
bouncing the ball into the basket – the team earns 2 points;
a defensive player catching the ball that bounced off the chair and has not yet touched the ground – the team gets 3 points.
The first team to reach 54 points wins. Usually, such lawn toss games last for two rounds. If there is a tie game, a third round is played. These rules are simple and can be changed due to your preference. For example, you can change the distance between the chairs, choose any number of players per team, and change the maximum number of points needed to win.
OUR BIGGEST SALE
OF THE SEASON!
Based on 214 Customer Reviews
OUR BIGGEST SALE
OF THE SEASON
🏈 QB54 is Taking the World By Storm! The Hottest Game on the Market!

🏈 Each Game Set is action-packed!Highly Addictive!

🏈 QB54 has all the elements of football without the CONCUSSIONS!

🏈 When finished form into 2 usable chairs that support up to 275 lbs each!
Main advantages of QB54
QB54 is the best lawn toss game with a lot of advantages:
compactness – the set includes everything you need: two camping chairs and a ball that fit into a small carrying case;
simplicity of rules and the ability to adjust them;
age and fitness level doesn't matter – anyone can play this game;
QB54 is an opportunity to liven up your picnics or parties;
a great way to enjoy active outdoor leisure;
functionality – this football chairs are comfortable for resting, thanks to their non-slipping legs and sturdy construction, that can easily support up to 275 pounds.
safety – the equipment does not have any sharp parts that could cause injury during the game process.
QB54 is an excellent choice for active entertainment! Choose the color of the set and start the competition!
FAQ
What toss game to play on the lawn?
QB54 is the best toss game to play on the lawn. It isa compact set that includes two camping chairs and 9-inch rugby ball. You can placechairs on any flat surface. QB54 is a team game, but you can play it one onone. This football game doesn't require any special skills or knowledge.
Where to order QB54 lawn toss game?
How much does the lawn toss game cost?