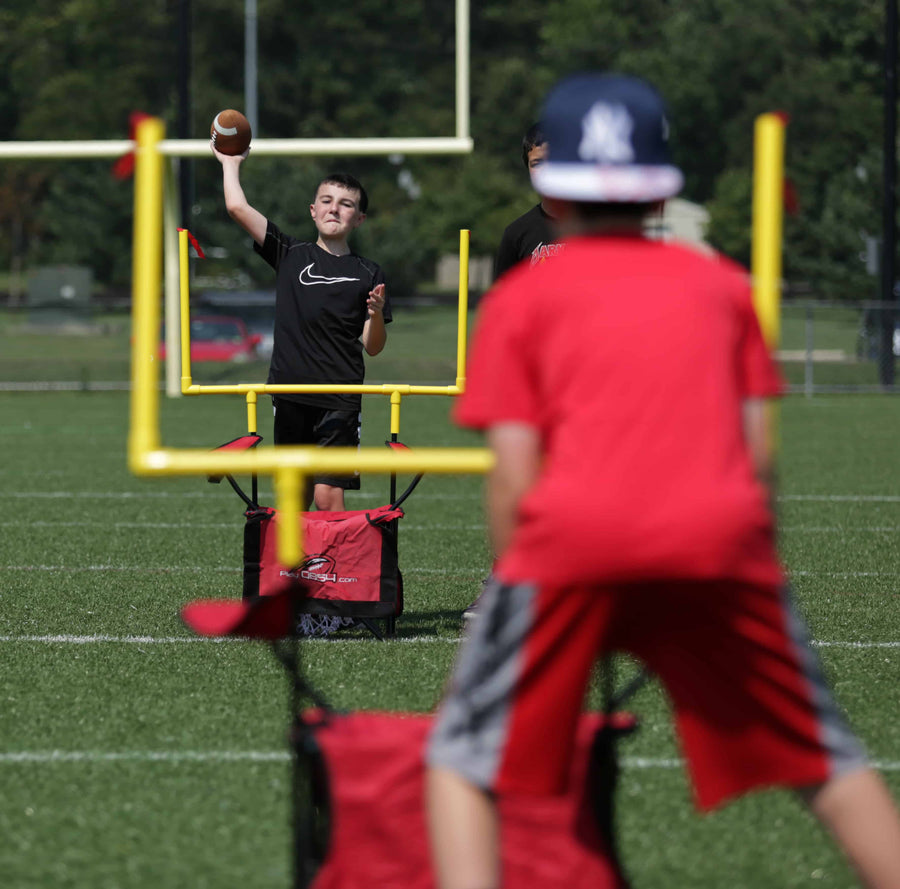 Family Picnic Game
Are you planning a picnic with your family this weekend? It doesn't matter what format you choose: beach relaxation, backyard or park fun – QB54 family picnic game will be an excellent option for active leisure!
QB54 is an entertainment that replaces several ball games at once. Its creators, the Silva brothers, came up with it when they were kids, and today it's a popular family picnic game, a great entertainment, and a way to actively spend time!
Specificities of QB54
QB54 is often referred to as a football chair game, as the main components of the set are 2 camping chairs. They are equipped with nets and goalposts, but at the same time, they are compact, easily foldable, and you can use them for their intended purpose – relaxation after the game.
The set also includes a classic rugby ball. You can throw it into the basket or kick it through goal posts. It is up to you how to play.
QB54 is the best family picnic game. It suits any skill level. Even if you have never played football, you will easily understand the rules and the game process, and you will be able to compete with experienced players! The game allows you to change the rules depending on the players' preference.
When it comes to athletes, QB54 becomes an excellent alternative to a real football field, as you can have fun while improving your throwing accuracy. Additionally, this game is suitable for children as well. Its rules are easy to remember, and you can have as many people on a team as you like, so nobody will get bored! You no longer need to come up with BBQ games for families: just place 2 chairs with nets opposite each other and start the match. Moreover, you can play on a large area or small backyard. You can play QB54 practically everywhere.
How to play QB54
This family picnic game has a few rules to guide beginners. So, the chairs are recommended to be placed opposite each other on a flat surface, with the distance of 40 feet or less between them. It can be changed due to the players' skills and abilities.
To start the game, you need to split into two teams. For the convenience of playing in a small yard, no more than 3-4 people in a team are recommended. You can also choose how to play – to throw the ball into the basket or kick it through the goalposts. Then take turns throwing the ball and earn points for certain actions.
The points system is as follows:

• hitting the chair – team/player gets 3 points;
• throwing ball into basket (touchdown) – team/player earns 6 points;
• interception of the ball earns 1 point;
• if the ball bounces on the ground from the throw and lands in the basket – team/player gets 2 points;
• team/player can earn 3 points if they catch a rebound ball from the chair before it hits the ground.
Also, some QB54 rules can be adjusted according to the conditions in which you play. For example, you can even play 1 on 1. The distance between the chairs can also be different. It depends on the players' experience, age, and place where you are going to play.
OUR BIGGEST SALE
OF THE SEASON!
Based on 214 Customer Reviews
OUR BIGGEST SALE
OF THE SEASON
🏈 QB54 is Taking the World By Storm! The Hottest Game on the Market!

🏈 Each Game Set is action-packed!Highly Addictive!

🏈 QB54 has all the elements of football without the CONCUSSIONS!

🏈 When finished form into 2 usable chairs that support up to 275 lbs each!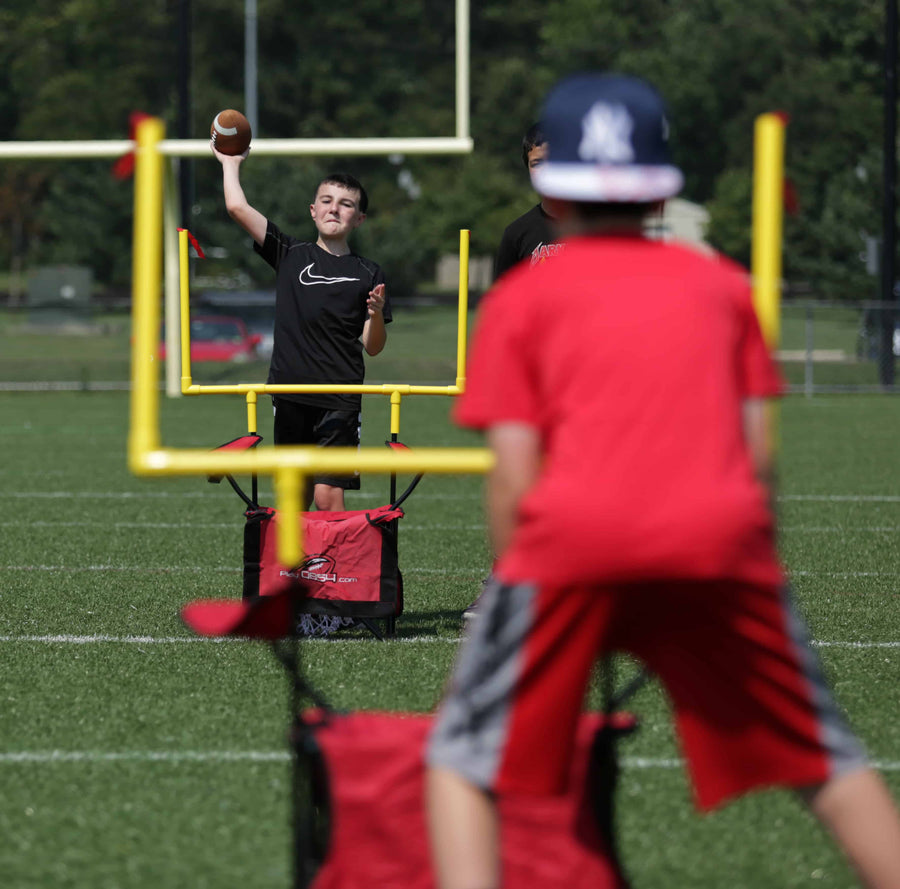 Why you should choose QB54
Family picnic games are supposed to be fun, so it's important to choose an activity that will suite to and entertain everyone. Playing the football chair game has a number of benefits that have made it an integral part of many picnics.
Benefits
Outdoor activity is the best way to pass the time while waiting for snacks to be prepared. QB54 is a great option for any leisure! In addition, yard games for family bring families together and provide an opportunity to get to know each other even better.
Compactness and practicality
The game set fits into a backpack and is lightweight. Thanks to this you can take it with you to any picnic or beach party. No additional equipment or tools are required for setup: the goalposts can be quickly assembled and disassembled. Moreover, the set does not contain sharp or small parts, so even a child can set up the game set.
The chairs serve not only as sports equipment but also as comfortable seats for relaxation after a match. The legs are stable and do not sink into sand or grass, while the waterproof material is easy to clean from dirt.
Universality
This fun family picnic game is suitable for all ages and skill levels. When played according to the rules, it is low-impact and safe. To organize a fantastic family entertainment, all you need is QB54 set and a sense of fun.
FAQ
What game to play on family picnic?
QB54 is the best game for a family picnic. This is a ball game that allows you to play football or basketball without a huge field and complex sports equipment. Everything you need fits in a small bag: 2 chairs with goals and nets, as well as a rugby ball. This entertainment is suitable even for a small yard. It doesn't require any special knowledge or trainings. Place two chairs opposite each other and start the game.
Is QB54 family picnic game suitable for kids?
Where to order the best fun game for family picnic?
How long does it take to deliver my order?