Yard Games
Yard is a perfect place for games! Here you can have fun with friends, hold sports competition. However, usually for such activities, one needs to go to a sports field that is equipped with everything, or carry heavy gaming equipment. But with QB54, none of that is necessary!
This is the best yard game! It is relatively new game, that has already managed to win the hearts of the players! QB54 has truly simple rules. Its equipment is universal and can be used both for gameplay and for relaxation. It doesn't require any special knowledge or skills. That's why this game has gained wide popularity among people of all ages.
QB54 game equipment
QB54 equipment is quite simple. It includes two ordinary camping chairs with nets at the bottom of each seat, a standard 9-inch rugby ball, which can be either the original color or with bright stickers. There is also a cover that allows you to easily carry all these elements.
The game equipment is universal, so the chair can be used for its intended purpose by removing the net. The chairs can easily support up to 275 pounds. This is an excellent option for those who like functional things.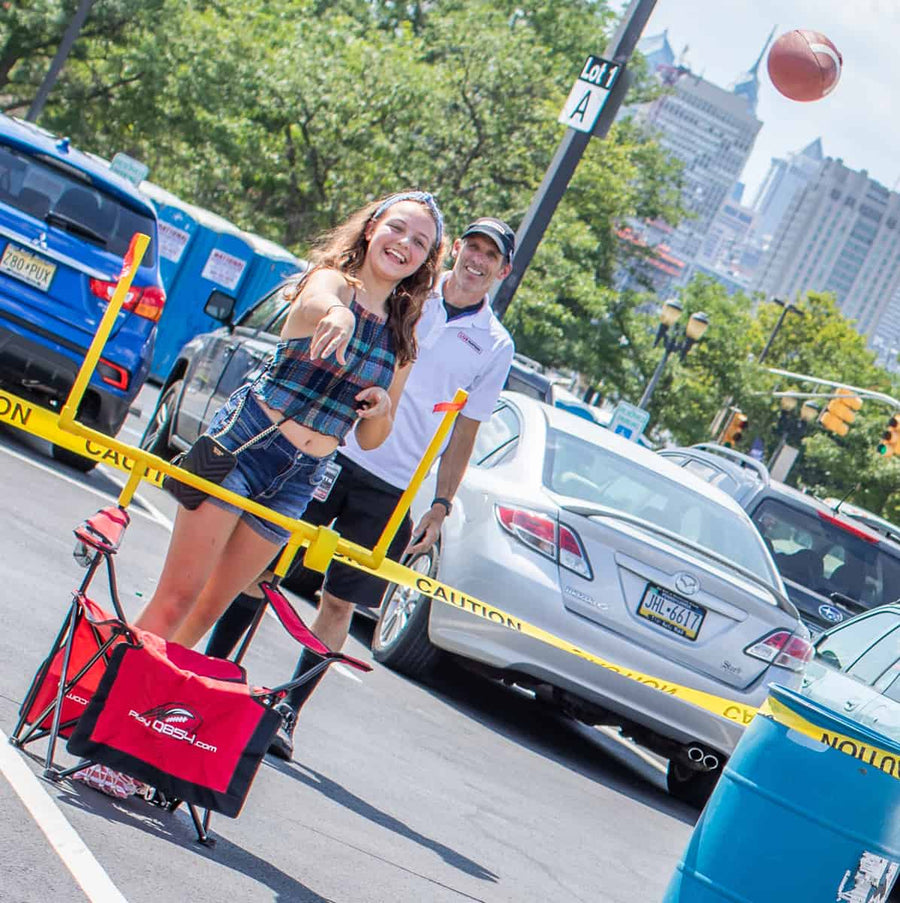 QB54 rules
This fun yard game has a fairly simple set of rules. To start, place two chairs with the nets opposite each other, with a distance of 40 feet or less, if the players are new to this type of game. The advantage of the game is that it can be played even with a few people, two on two, or one on one. When playing one on one, players are paying from opposite sides. When playing two on two, teammates are on opposite sides.
The players take turns throwing the ball into the basket. The round ends when one team reaches 54 points. The most common question is why QB54 has 54 points? The creators of the game themselves state that such a number of points seems the most optimal. In addition, they statistically calculated that most games end with just such a score.
For this purpose, the Hail Mary option is provided in the rules. It means that you need to subtract the winning score by the losing score to determine the number of steps. The player of losing team takes this number of steps away from goal and turn around to face their opponent's goal. Hitting the basket results in a victory for the team.
During the game, players will need to switch sides periodically. This happens several times per game, when leading team reaches 12, 24, 36, or 48 points. However, 54 points do not guarantee victory, as the losing team has one last chance to change the course of the game.
OUR BIGGEST SALE
OF THE SEASON!
Based on 214 Customer Reviews
OUR BIGGEST SALE
OF THE SEASON
🏈 QB54 is Taking the World By Storm! The Hottest Game on the Market! 🏈 Each Game Set is action-packed!Highly Addictive! 🏈 QB54 has all the elements of football without the CONCUSSIONS! 🏈 When finished form into 2 usable chairs that support up to 275 lbs each!
While playing yard games, it's important not only to score goals successfully, but also to earn points by performing certain actions:
• the ball hits a chair – team/player gets 3 points;
• player throws ball into basket (touchdown) – team/player gets 6 points;
• kicking through goal posts – team/player gets 1 point;
• kicking touchdown – team/player gets extra point;
• If the ball bounces from the ground and lands in the basket – team/player gets 2 points;
• If the ball bounces off a chair and a team catch it before it hits the ground – team/player gets 3 points.

QB54 yard game has a number of features. For example, the player can intercept a thrown ball that hits any part of the chair before it hits the ground. If player takes knee immediately after interception, the player/team will earn 3 point.
After interception is made, the player shall run to the opposite goals until touched with 2 hands of the opponent. At the spot of contact, the player can try to score touchdown and earn 6 points.
During the game, the players can use laterals to reach or get closer to the opponent's goal. A lateral is a sideways or backwards direction toss. It is also allowed to block other players during the interception and Muffed Extra point returns.
Where to play QB54?
This is interesting and compact yard game for friends. It can be taken anywhere. When folded up, it takes up very little space in the trunk. QB54 is the best lawn game, entertaining and fun picnic game, and at the same time, a dynamic BBQ game! You will have fun with your friends playing QB54 at the picnic. It is thrilling and exciting game. Be sure, everyone will like it.
QB54 is a universal yard game. There is no need to use any special tools to install the game set. You just need to choose a comfortable surface – flat, if possible. It could be a sandy beach, or a lawn. This game is suitable for everyone, who likes to have fun!
Who created this awesome yard game for friends?
QB54 was designed by two brothers, Michael and Frank Silva. When they were children, they created their own games to entertain themselves. One day they wanted to play football, but there were no goals. So, the boys started to thrown ball into the trash cans. The brothers grew up and realized that they needed to introduce this fun entertaining activity to the whole world. They came up with a set of rules, developed a system and designed game equipment.
In August 2016, the Silva brothers launched their online shop selling QB54 game sets.
FAQ
What active game can I play at the yard?
One of the best active yard games is QB54. Its rules are very simple. You just need to throw the ball into the basket from a certain distance and score 54 points first. This game is designed both for large and noisy companies, and for just two players. It is universal and allows you to play anywhere and anytime.
Where can I buy the best fun yard game?
How much does the yard game cost?