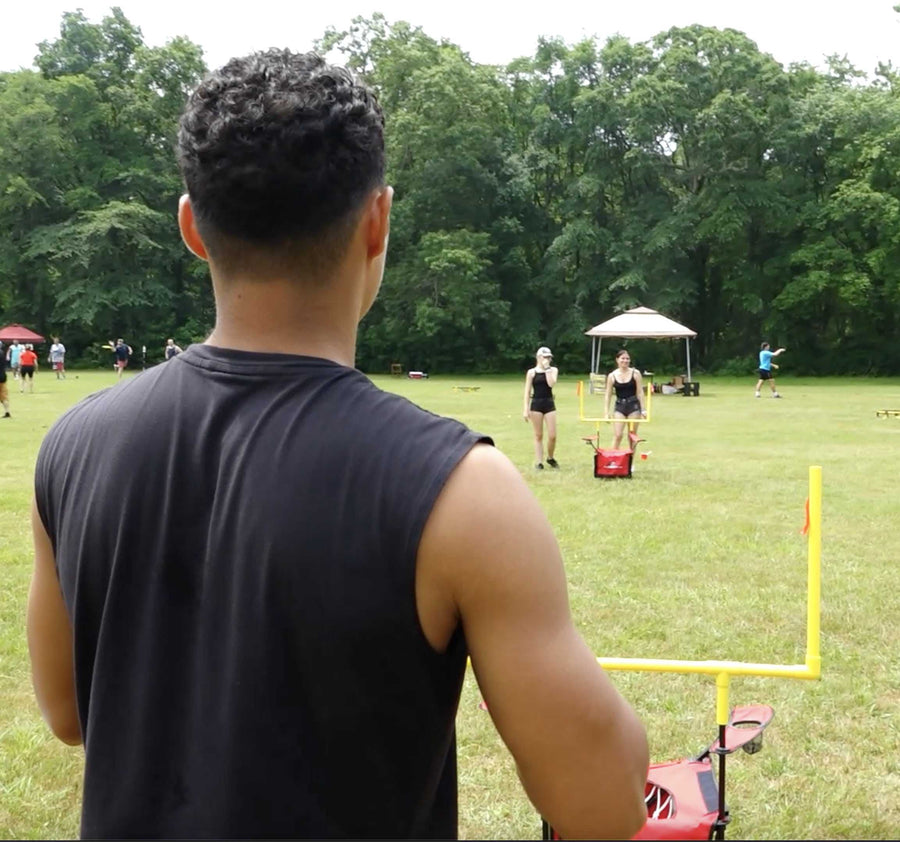 Lawn Game
It is always interesting to have a walk in the forest. It's a great opportunity to gather friends, plan a route, find a cool lawn for camping, and have QB54 competition! This is a great lawn game that can be played one by one, or two on two!
QB54 was introduced to the world in 2016 when its creators, Michael and Frank Silva, decided to launch their online store selling QB54 game sets. The brothers always came up with activities for themselves. One day they came up with the idea of throwing a football into trash cans, competing for accuracy. The boys grew up, but they never forget their childhood entertainment. They developed a set of rules, decided on the equipment (they replaced the trash cans with camping chairs with nets instead of seats). Thus, the best lawn game was introduced to the world.
Simple rules and game universality made this game so popular. Anyone can enjoy it. Its popularity continues to grow, and it's no surprise why. QB54 is easy to set up, easy to play, and always guarantees a good pastime.
Many people have already become its fans. It has become especially popular among professional football players and coaches. Among them are Brad Johnson, a former NFL quarterback, and Jerrod Johnson, a former NFL and NFL QB coach. QB54 became not just an interesting pastime, but also a way to get additional training. However, not only professionals, but also unexperienced players can play QB54.
Where to play QB54?
The uniqueness of the game is that it can be played by people of all ages with any level of physical fitness. The main thing here is the accuracy. The rules do not require any special skills, abilities or knowledges. All you need is a good mood and a sense of fun.
QB54 is a top lawn game, suitable for any occasion. It can be easily transported in a car or backpack. You can invite friends and have a game right on the yard! Or you can relax on a lawn. It is perfect for BBQ games, yard games, or backyard BBQ games. Friends and neighbors can enjoy treats, swim in the pool, and play QB54. This game does not require large space, so you can easily bring it to a party. The rules are very simple, so even kids can play it and have fun. This is an entertaining and thrilling game. Your guests will definitely enjoy it. No other yard game can compare with QB54!
QB54 lawn game is also a great choice for a picnic by the lake or river. Thanks to its compactness, it won't take up much space in the car trunk. After enjoying the nature and eating all the food, you'll want to have some active time. QB54 is the perfect option here!
QB54 is the best lawn game
The game equipment includes two camping chairs with a net instead of seat and a shield-like structure at the back. At any moment, this gaming equipment can be transformed into regular camping chairs to take a break. The chairs can support up to 275 pounds.
The game set also includes 9-inch rugby ball made of composite leather. There is also a bag to store and transport all game elements. You can also buy referee flags or cool branded baseball caps to protect players from the sun. But the main attribute of this exciting game is a good mood and a spirit of competition.
QB54 is also a great way to get some exercise while having fun. Players have to run and catch the ball. The game can quickly become intense as teams compete to score points. This makes it an excellent option for those who want to stay active and enjoy the outdoors.
OUR BIGGEST SALE
OF THE SEASON!
Based on 214 Customer Reviews
OUR BIGGEST SALE
OF THE SEASON
🏈 QB54 is Taking the World By Storm! The Hottest Game on the Market! 🏈 Each Game Set is action-packed!Highly Addictive! 🏈 QB54 has all the elements of football without the CONCUSSIONS! 🏈 When finished form into 2 usable chairs that support up to 275 lbs each!
How to play QB54?
Lawn game for friends has very simple and understandable set of rules. The game can be played one on one, or two on two. If you play one on one, the players are playing from opposite sides. If you play two on two, the teammates are on opposite sides. The players take turns throwing the ball into the basket. Once a leading team earns 12, 24, 36, or 48 points, they must switch sides.
The team, that first reaches 54 points, wins. Why exactly this number of points? After analyzing a lot of sports competitions, the creators of QB54 concluded that this is the most common score. So, they decided to use it.
For the loosing team there is one chance to save the game. To do this, the number of points earned by the losing team is subtracted from the winning 54 points. The remainder is the number of steps. The player of losing game takes this number of steps in the opposite direction of the opponent's goals. Then, the player turns around to face the opponent's goals and throws the ball into the basket. If the ball lands in the basket, the team wins. It's the ultimate lawn game that allows you to win even in a no-win situation!
There are several ways to earn points: a touchdown gives 6 points; if the ball hits the chair, the team gets 3 points; if the ball bounces on the ground and lands in the basket, the team earns 2 points; and if the player catches a rebound ball from the chair before it hits the ground, they can earn 3 points.
There are several ways to increase your chances of success. For example, if players from one team are close together, they can try to earn extra points. To do this, you need to catch the ball, that hits any part of the chair (including goal posts), take a knee immediately and earn 3 points. After that, you need to run to the opposite goal until touched with 2 hands by opponent, and make a landing throw. These lawn games are very active and dynamic. If you hit the basket, you can earn 6 points at once. You can also try to catch a missed ball and earn one extra point.
During the game, sometimes you have to make lateral throws. They are used when the team needs to reach or get closer to the opponent's goal. A lateral is a sideways or backwards direction toss. You can block opponents' actions during interception and Muffed Extra point returns, to enable the offense to get closer to opponents' goal.
It's not as difficult as it seems! QB54 is a fun lawn game! After learning its rules, all you have to do is to find worthy opponents and compete with them. So, grab a ball, set up QB54, and get ready for some friendly competition!
FAQ
What game to play on the lawn with friends?
QB54 is the coolest game for relaxing on the lawn. It is perfect for friends who like an active lifestyle and spending time in nature. All you need is a flat surface and a desire to play! You simply set up chair-goals opposite each other and compete in accurate throws!
Where to order the best dynamic lawn game?
How much does the lawn game cost?