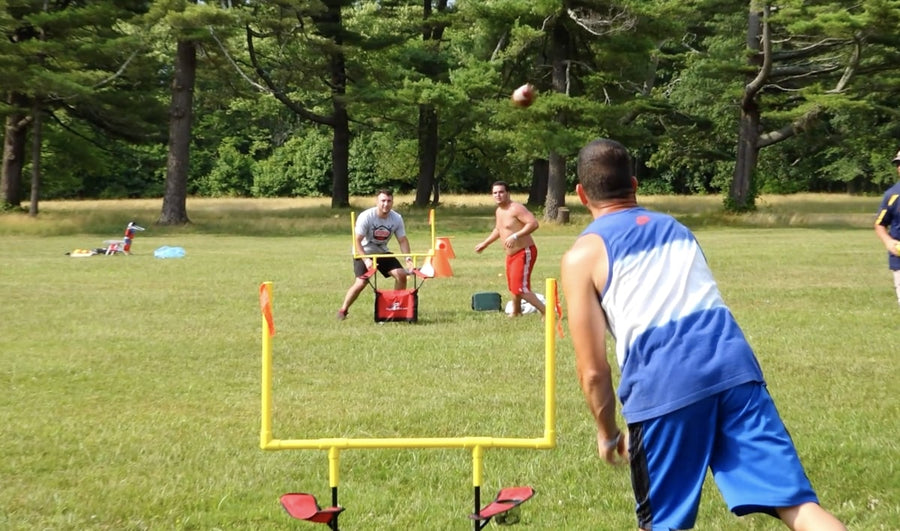 Backyard BBQ games
QB54 is the best backyard BBQ game!
Barbecue is a special form of relaxation. Especially if you like to play different games such as QB54. This is a great opportunity to have active pastime, practice your agility and accuracy.
QB54 is a unique game due to its versatility. The game is perfect for all ages and occasions. It is played by women and men. While playing QB54, you can arrange competitions. When there are few participants, you can just play a few minutes while the meat is grilled.
Here some other ways to use QB54:
At the beach – you can play it when you're tired of just sunbathing and swimming. Playing on the sand will provide an even tan and muscle workout.
As a lawn toss game – you can take the game set with you on camping or hiking. Its equipment is very space efficient.
In school, in the yard, in sports classes – it's a great option for daily workouts and an opportunity for children to engage in a useful leisure activity.
As a tailgate toss game – QB54 is a perfect option for such occasions.
These are not all options for using this game. This is the best backyard BBQ game set and you can use it however you want!
BBQ parties are a great opportunity, not only to have tasty treats and refreshing drinks, but also to provide your guests with some activities. In this case, the active games are preferred. But it is not always possible to play such games. QB54 game set is the best option here thanks to its compactness. All you need is just to find flat surface and place two chairs opposite each other.
If you often invite friends and neighbors for BBQ in the backyard, they will definitely love this awesome and engaging game.
TOP backyard BBQ game
This type of game belongs to the category of portable games. QB54 easily folds and unfolds. Doesn't take up much space when stored. You can quickly move it from place to place.
It also has simple rules, accessibility for all ages, multifunctionality (the chairs can be used for relaxation), high-quality elements, and affordable cost. The basis of the camping chairs is a sturdy metal structure. Powder coating provides reliable protection against scratches, corrosion, and other damage. The seats and backs are made of durable polyester, which easily withstands the influence of the environment.
The 9-inch rugby ball is made of composite leather. It is decorated with an original print. In addition, the backyard BBQ game has a wide range of color options, allowing you to choose the one you like the most.
QB54 game chairs are no different from those used on camping, but they have one interesting feature: there is a special net for the ball at the bottom – like the one used in basketball. Thanks to this, the set is also called the football chair game. That is, the essence of the game is to throw the ball into the basket and get points for each throw.
OUR BIGGEST SALE
OF THE SEASON!
Based on 214 Customer Reviews
OUR BIGGEST SALE
OF THE SEASON
🏈 QB54 is Taking the World By Storm! The Hottest Game on the Market!

🏈 Each Game Set is action-packed!Highly Addictive!

🏈 QB54 has all the elements of football without the CONCUSSIONS!

🏈 When finished form into 2 usable chairs that support up to 275 lbs each!
QB54 game rules
It is a ready-to-use backyard BBQ game set consisting of several components. The set includes two camping chairs made of high-quality and durable materials, goal posts, an oval-shaped ball, and an instruction manual with detailed rules.
Preparing the game area is very easy. You just need to place the chairs on a flat surface opposite each other, with the distance of 40 feet or less (the distance can be adjusted due to player's preference and skills, and age). Then, you need to form two teams. However, it is also possible to play with just two players.
When the leading team gets 12, 24, 36, or 48 point, the teams switch sides.
QB54 game rules also provide for interception and blocking.
This game has a lot of fans, because the losing team has the right for the last throw to save the game.
The backyard BBQ game continues until one of the teams reaches 54 points. Actually, this figure is the basis of the name of QB54 game.
Victory depends on many factors. So, it is important for the participants to read all the rules of the game in advance in order to avoid controversial issues. But don't worry, it's not all that difficult, because this game was invented by two boys. As children, the boys always liked to play active games. Having come up with their own rules for throwing the ball, they introduced their entertainment to friends. Then, already in adulthood, they introduced it to the whole world. They have been perfecting this game for over 30 years, and in 2016 they launched their online shop, so that millions of people in different countries could join this amazing sport.
QB54 is the best backyard BBQ game. So, if you are looking for engaging fantasy football party game, or you are going to organize a birthday celebration, or just want to spend a weekend with your family or have fun with your friends, QB54 is this is the perfect option you need!
FAQ
What game to play at backyard BBQ?
To ensure that your guests or family members do not get bored during a BBQ party, you have to organize some active entertaining for them. Along with intellectual games, active games are great, and QB54 is the best option here. Its popularity only grows with each year. It is a successful combination of football and basketball, as the essence of the game is to throw balls into basket attached under a camping chair seat.
Where to buy backyard BBQ game?
How much does backyard BBQ game set cost?