DESIGNED AND ENGINEERED
🇺🇸
IN THE USA
🇺🇸
Each Game Set is action-packed!
FUN TO PLAY WITH YOUR FAMILY AND FRIENDS
QB54 HAS ALL THE ELEMENTS OF FOOTBALL & SAFE FOR EVERYONE
LOTS OF ACTIVITY & FUN + FOOTBALL + TWO USABLE CHAIRS
Where to play?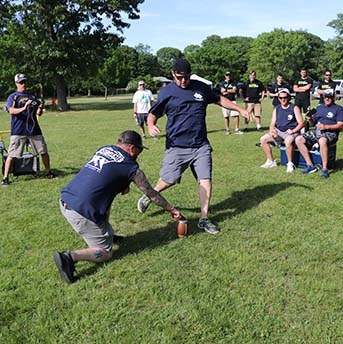 WHY WE CREATED QB54?
My brother and I created the game for people to have fun, to escape the monotony of everyday life and to bring some joy and fun into their lives. In today's world, people are constantly being divided, whether it's through politics, race, religion, etc., our game brings people together through fun, excitement, and competition.
Our game also brings the day at the beach, a backyard BBQ or a tailgate party to the next level. People also feel proud when they introduce a new awesome game to their friends, its like they are earning social credibility with their buddies or "I'm cool because I introduced this awesome game to you!" And this is the best way to get your kids off their screens
REVIEWS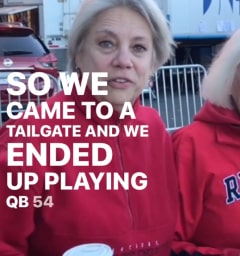 I purchased this game for my husband and grandson in the color E A G L E S 🦅💚green. It is the perfect backyard game for our family get togethers. Great purchase, fast delivery and awesome customer service!!
I have had this game for over 3 years. My kids now 11 and 9 are pros at it. It's awesome!!!! I take every where with us Beach , lake , pool , and to our baseball tournaments. Keeps the kids active and off of the electronics!!!!!!!!!
New favorite neighborhood game!! Kept the fathers and sons entertained for hours!!! Plus, they have excellent customer service!! Michael called back within 15 minutes!!
Purchased QB54 for a family beach vacation and it was a hit. Everyone, young and old, loved it. Also, the customer service was outstanding.
The best part of the game is that you can make your own rules! We have a rule where each of us gets three throws and then chooses to "go for it" on fourth or kick the field goal.
This game is extremely easy and fun to play. We got it out the first time for a Father's Day BBQ and it was a hit. From the kids to the adults everyone had fun!!! If you're thinking about buying it, save your time and just do it!
HOW TO PLAY
FOOTBALL YEAR-ROUND
QB54 is the ultimate football game built into two camping chairs. Score points by making completions, touchdowns, interceptions, and kicking extra points! The first team to 54 wins.